Coulson Steel Meter Stations
Coulson custom designed meter stations are engineered with machine formed edges and channels for strength and durability. Constructed using quality 16 gauge sheet steel, this is a meter station that will provide a solid base and environmental protection for years to come.
Standard features
Coulson meter stations incorporate many standard features to make installation and operation painless and user-friendly. Each unit comes standard with a 2" certified orifice meter tube, three valve manifold, meter tube hookup kit, locking quarter-turn door handle and hinged doors on both sides for ease of access. Simply add your preferred differential pressure recorder and you have all you need to be up and running in record time.
Quality components
Quality is not an afterthought with Coulson. Utilizing seamless DOM tubing for the meter tube, stainless steel tubing for the manifold, and carbon steel needle valves and ball valves, each component is carefully selected to provide the best quality meter station on the market. The Coulson meter station is finished with a highly durable primer coat and stands ready to accept a finish coat in your company colors.
We Do That!
Customization is never a problem at Coulson. You want a five valve manifold, angle iron legs, 3" meter tube, and a hasp in place of the locking handle? You need a setup for rotary or electronic meters? No problem, we do that!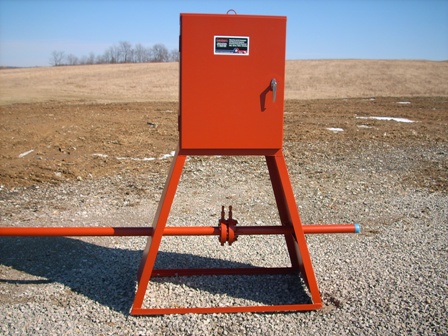 Standard Closed-leg
Steel Meter Station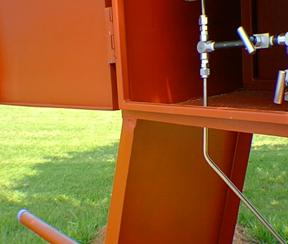 Machine Formed Edges
Quality Construction
Related resources
Printable Product Datasheet